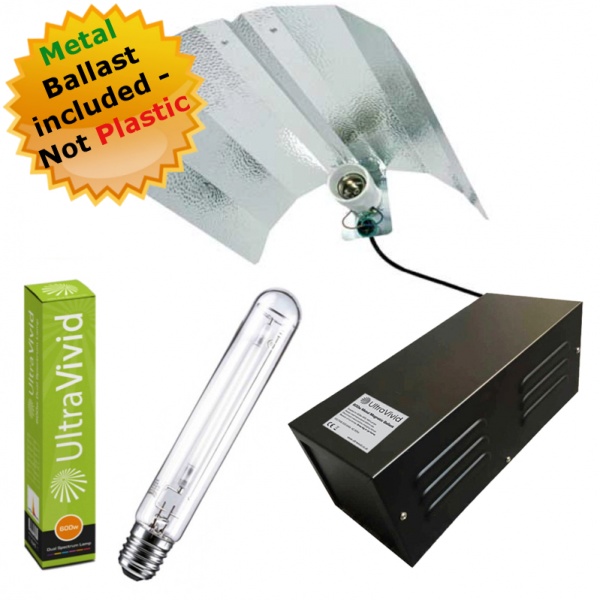 Grow Light Kit contains:
1 x Euro Reflector
1 x 600W UltraVivid Compact Ballast
1 x 600W UltraVivid Dual Spectrum HPS Bulb
This complete 600 Watt UltraVivid Grow Light Kit comprises of the ever-popular Euro Reflector, a 600w UltraVivid Black Compact Ballast and a 600 Watt Ultravivid Dual Spectrum HPS grow lamp. The reflector, ballast and lamp have all been chosen as leading products in their price bracket and have all been tested to work together a treat. This kit is excellent value for money and it bridges the gap between the budget and more expensive kits but at a budget price. There are branded kits out there that don't even come close to this one.
• Ballast comes equipped with thermal protection cut out device
• Big money saving over buying the items individually
• Great Euro Barn reflector - one of the most popular shades in the business
• Superb value-for-money compact ballast - made only from quality components
• Dual-spectrum lamp with high lumen output
• All the items have been chosen as leading products in their price bracket
• This HPS Grow Light Kit contains only high value-for-money items
• Ideal for use in a 1.0m or a 1.2m square tent or grow-area

The Euro Reflector is the ideal choice for first time growers or those on a budget. The dimpled wings and v ridge on the top provide excellent reflectivity and light dispersion and reduce the problem of hot spots. The reflector comes with a ceramic lamp holder and 2 tabs on top for easy hanging.
The compact ballast that is included in this kit is equipped with thermal protection to stop the potential danger of fire. Every single ballast is checked before distribution to ensure that it performs to its full capability and to guarantee a safe continuos operation.
600W UltraVivid Lighting Kit