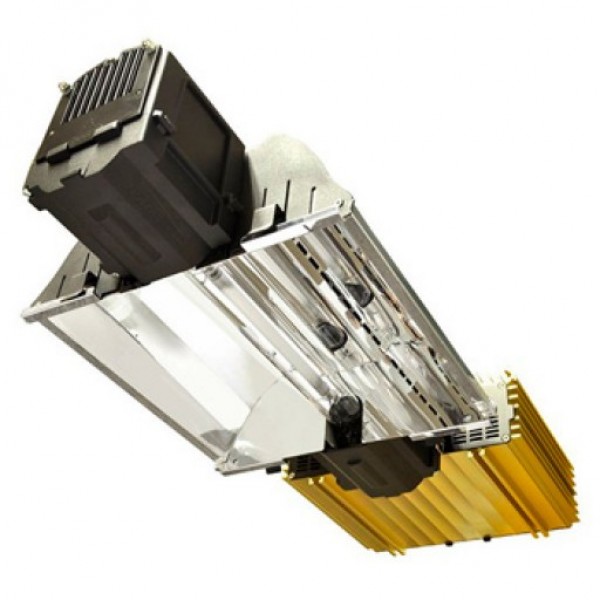 Dimlux 1000w DE EL UHF

The DimLux Expert Series is the most advanced and complete lighting system on the market. DimLux combines the best of two worlds: The Alpha Optics 98 Reflector in combination with the Xtreme ballast and 400V Full Spectrum Lamp, is a complete fixture with the highest level of reflector efficiency and light output yet available.

With Dimlux lighting, plants gets a cleaner, more powerful light which operates at cooler temperatures. Coupled with the Maxi Controller and other available sensors, Dimlux provides unparalleled control and efficiency.

The result is optimal control and maximum performance

Features:

The highest output (light) due to the overdrive boost and 400V UHF technology


Miro Silver Reflector with Single Bounce Clear Sight (SBCS) principle




Highly efficient - puts out 2.1 micromole (µmol) per watt




The broadest dimming range of all digital ballasts



Soft-Start, Soft-Dim, Soft-Off function


Can be dimmed manually in 8 levels including the "off" position.

Can be variably dimmed and controlled


Extensive diagnostic LEDs

EOL function (End Of Life indication to replace lamps)


Safety features for preventing short circuits, open contact, high temperatures, too low voltage, too high voltage



Benefits:

SBCS -Single Bounce reflector ensures minimal light loss


Brighter, cleaner light for maximum yield

Less Heat – reduced risk of heat damage to plants

Reduce cooling costs

No loss of vertical space – ideal for rooms with low or high ceilings

Available Master Controller (sold separately) for dimming to sunrise/sunset and when temperature, humidity and CO2 levels vary

Overall much greater output and yield than any other lighting system

Alpha Optics 98 Reflector

This Alpha Optics 98 reflector was designed according to the Single Bounce Clear Sight (SBCS) principle and is equipped with Miro Silver mirrors.

This achieves the highest possible level of efficiency (98%) of any commercially available horticultural reflector. The reflector is fitted with adjustable side reflectors for better overlapping and minimizing wall losses.

Thanks to the open reflector design, the lamp is passively cooled, which improves both the service life and efficiency of the lamp. Warm air can be actively be extracted through a 2inch /50 mm connection on the reflector which reduces the room temperature significantly. In addition, separately available add-on reflectors can be installed to further reduce wall losses. The reflector is replaceable.


Dimlux 1000w DE EL UHF