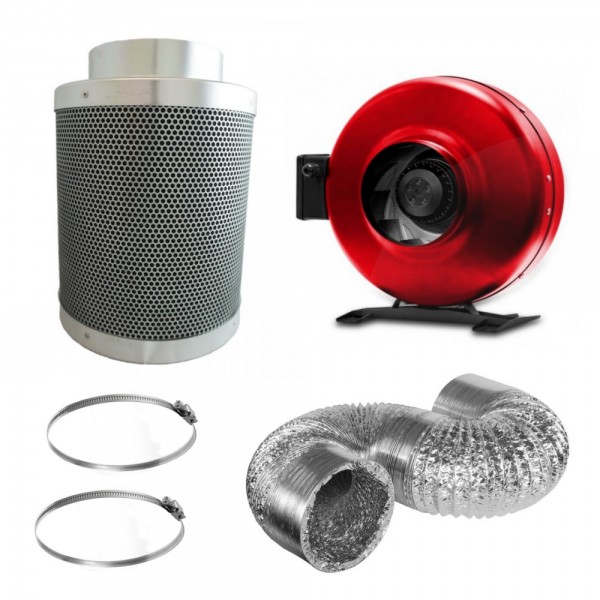 4" Pro Fan & Filter Kit.
The 4" Pro Fan & Filter Kit is the perfect solution for the grower who is looking for a lower price ventilation kit that doesn't compromise on quality. The kit comes with a 4" Red Scorpion Fan capable of extracting 320m3/hr, a 4" (100 / 200) Pro Filter, 4" wide by 5 metres long aluminium ducting and 2 jubilee clips. The fan and filter have been perfectly matched to provide the optimum air flow.
The Pro Filter is made using only the finest virgin Australian RC4-12 granular carbon allowing tight packing and leaving no space for VOC's (odours) to escape.
It has been machine packed allowing more carbon and less movement and the open air mesh design maximises airflow.
Activated carbon absorbs and traps pollutants within the carbon removing odours and impurities from the air
Features of the 4" Pro Filter include:
2 Pre-filters included

Large custom mesh for increased air flow

Unique, light-weight and highly efficient design

Refined aluminium flange

Aluminium top and base.



Features of the 4" Red Scorpion Fan include:
Carbon Steel Fabrication




Easy Fit Duct Flange




High Pressure Air Flow




Strong Magnetic Motor



4" Pro Fan & Filter Kit Contains:
1 x 4" Red Scorpion Fan
1 x 4" (100/200)Pro Filter
1 x 4" / 5M Aluminium Ducting
2 x Jubilee Clips
4" (320m3/hr) Pro Fan & Filter Kit