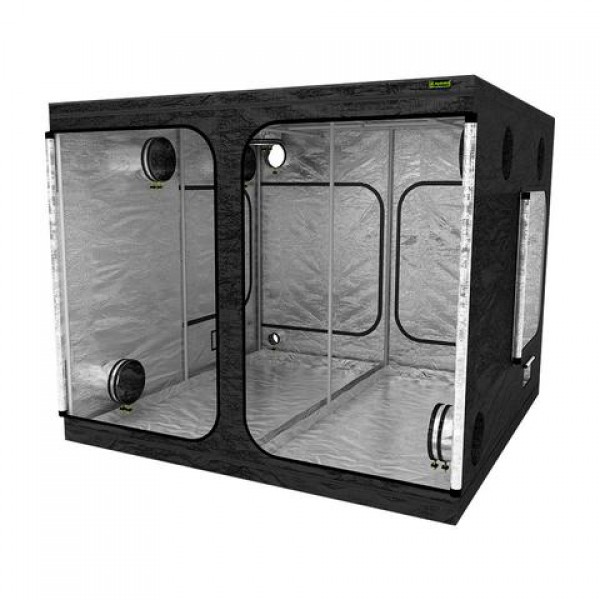 2.4 x 1.2 x 2.0m Hydrolab Tent (LAB240-S)

The LAB240-S by Hydrolab has a great rectangular footprint which makes it perfect for 2 x 600W lights. This particular model by Hydrolab has super strong poles and a range of features that make it stand out from the rest.

Hydrolab tents are 99% light proof and the interior is made from diamond cut mylar resulting in more light being reflected more efficiently than tents made with standard hammered mylar. It is made from plant friendly non-toxic materials so there is no danger of the tent causing any damage to your plants like cheap poorly made tents.
The frame is made from 25mm thick steel (you can hang up to 100kg on it) meaning the tent is strong and robust. The tough outer shell with reinforced corners and locking frame connectors and military grade zips add to the overall strength and quality of this tent.
The designers at Hydrolab have considered all the practical elements of a grow tent and have created this tent with large side doors for ease of access. With electrical socks at the top and bottom, over-sized ventilation socks and air-cooled reflector socks this tent offers you the flexibility to set up your grow room as you wish.
This tent also comes with a removable spill tray and fan / filter hanging straps.
- Thick 25mm steel frame (hang up to 100Kg)
- Large side access doors
- 99% light proof
- Diamond cut mylar interior
- Military grade zips
- Over-sized ventilation socks
- Air-cooled reflector socks
- Tough outer shell with reinforced corners
- Removable spill tray
- Fan/filter hanging straps
- Non-toxic plant friendly materials
- Pest guard passive vent windows
- Electrical socks top and bottom
- Locking frame connectors
2.4 x 1.2 x 2.0m Hydrolab Tent (LAB240-S) Contains:

- Framework kit

- 4 x fan / filter straps

- Storage bag

- Assembly instructions



2.4 x 1.2 x 2.0m Hydrolab Tent (LAB240-S)